Rich, creamy butterscotch fresh from grandma's candy dish intertwines with the oak barrel-aged notes of bourbon whiskey from grandpa's gold flask and fragrant, sweet vanilla
Note Profile:
Top: Cream, Butterscotch
Middle: Bourbon, Whiskey
Base: Vanilla

Candle Care
Important: When first lighting your candle, be sure to allow it to burn one hour for every 1 inch in diameter of the actual candle size. This will allow a nice even burn on the top and prevent tunnel burning. Trim your wick, with our Luxe wick cutters, to 1/4" between each burn. Due to the natural nature of our products, be sure to store them in a cool, dry place away from direct sunlight or intense lighting.
Remember:
1. TRIM THE WICK. Keep your wick trimmed to 1/4" at all times.
2. LET THE WAX POOL. Each time you burn your candle, allow the entire top layer to become a warm pool of liquid wax and you'll get the biggest, boldest scent possible with the longest burn times.
3. BURN IT SAFELY. Always burn your candle on a safe flat surface, keep it out of drafts and NEVER leave it unattended while lit.
4. DIP YOUR WICK. Extinguish your wick rather than blowing it out to prevent an overabundance of smoke.
For more Candle Safety Rules please visit the National Candle Association's Candle Safety Page at: http://candles.org/fire-safety-candles/candle-safety-rules/
Customer Reviews
02/20/2021
Yahminah A.

United States
I recommend this product
Had to let it burn for an hour and then I was in love!!
Butterscotch was my favorite candy as a little girl. No idea what Bourbon smells like, but alcohol usually smells decent in the container. I risked it and I am in love with this scent. Just makes me think about my childhood. I will be needing a few more of these. Please save a few for me! Thank you!!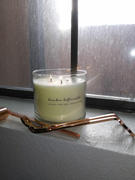 11/29/2020
Saintia

United States
I recommend this product
For the love of Bourbon
This candle exceeded my expectations. I love the smell of butterscotch and the Bourbon is an added necessary touch. I couldn't wait to receive this candle when I ordered it. It's a warm yet sweet scent. Think of a butterscotch candy with a hint of Bourbon. I could imagine the taste but I won't try lol. I will be ordering more. I would even gift it to a man who enjoys candles.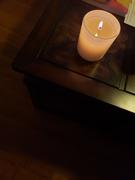 11/02/2020
Lawanna P.

United States
11/02/2020
Tayla M.

United States
I recommend this product
Love the packaging
Love the product- even the mini candle had a strong fragrance
WOW!
Absolutely love it! Only wish it came as a larger candle.
12/23/2019
Black Luxe Candle Co.
Thank you so much! This actually comes in a larger size but its only available locally right now, but please stay tuned. Your feedback is greatly appreciated.